Cascade issues 1 through 4
Cascade Comix Monthly #1
March 1978
The first printing is pictured here. The second printing has black outlines around the "News - Reviews - Comix" on the front cover. The first seven issues of Cascade (first printings) were limited to 400-600 copies by the color technique used on the covers. Second printings of issues 1-4 were produced in similar quantities.

Contents
Flashes (News Briefs)
Ted Richards Interview
Dadazines
Quick Ones (Reviews)
The Platinum Toad
Bumboat Goes a Fishin'
Artwork
Larry Rippee (cover)
George Erling
Ted Richards
Bill Gagione
Jim Siergey
Bill Sherman
Darrel Anderson
J. Michael Leonard
---
Cascade Comix Monthly #2
April 1978

Contents
Larry Todd Speaks
On Collecting Comix, by Bruce Sweeney
Biskits, by J. Michael Leonard
Mondo Snarfo, a preview
Flashes, news briefs
Quick Ones, reviews by Bill Sherman
Letters
Art
George Erling (cover)
Larry Todd
J. Michael Leonard
Bob Armstrong
Larry Rippee
Kim Deitch
Denis Kitchen
Gilbert Shelton
Dave Sheridan
Oisif Eguax
Art Spiegelman
Rich Bruning
---
Cascade Comix Monthly #3
May 1978
The second printing is pictured here. The first printing has a more elaborate background colored by Artie Romero on the front cover. John Peterson colored the 2nd printing's cover. Both printings are now unavailable.

Contents
Flashes
Dan O'Neill, interviewed by Artie Romero
Inside Rip Off Studios
Letters
A View of Vootie
Editor's Space
On Collecting Comix, by Bruce Sweeney
The Platinum Toad, by Darrel Anderson
Art
John Peterson (cover)
Artie Romero
Bob Vojtko
Dan O'Neill
Ray Allard
Ken Fletcher
---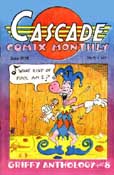 Cascade Comix Monthly #4
June 1978

Contents
Flashes!
An Interview with Leonard Rifas
An Anthology by Griffith
On Collecting Comix, By Bruce Sweeney
Quick Ones, reviews by Bill Sherman
Phobe and the Pigeon People, By Lynch and Whitney
Fat Freddy's Cat, by Gilbert Shelton
The Platinum Toad by Darrel Anderson
Artwork
Jim Siergey (Cover)
Leonard Rifas
Gary Whitney
Bob Vojkto
Bill Griffith
Jay Lynch
Gilbert Shelton
Darrel Anderson
Cascade
| Back Issues 1-4 |
5-8
|
9-14
|
15-18
|
19-23
Everyman
| Cascade Comix Monthly |
Mini-Comix
Underground Comix Art Exhibit
|
Comix links



Email us
ARG! Cartoon Animation LLC
(720) 989-1251


Copyright © 2020 Artie E. Romero, ARG! Cartoon Animation. Updated 03/03/2020