Cascade issues 19 through 23
Cascade Comix Monthly #19
March 1980

Contents
News
All About Trina
Interview with Greg Irons
Comix Showcase
Underground Gas
Mike Friedrich Interview
Teen Talk
Flying Fungus Funnies
Artwork
Steve Liealoha (cover)
Air Pirates Studio
Trina Robbins
Terry Richards
Shelby
Melinda Gebbie
Becky Wilson
Lee Marrs
Larry Rippee
Artie Romero
Greg Irons
George Metzger
Skip Williamson
Richard Bruning
J. Michael Leonard
Gary Whitney
David Coulson
Jim Valentino and Rick Geary
Hunt Emerson
Darrel Anderson
---
Cascade Comix Monthly #20
April 1980

Contents
Diane Noomin Interview
Underground Gas
News
Trina Robbins Interview
Ted Richards Letter
Anglo File, British Comix
Comix Showcase
New Wave
Flying Fungus Funnies
Spasm by Jim Valentino
Artwork
Ted Richards (Cover)
Diane Noomin
Artie Romero
Bob Vojkto
Larry Rippee
Trina Robbins
Richard Krauss
Guy Colwell
Skip Williamson
Gary Whitney
Jim Valentino
---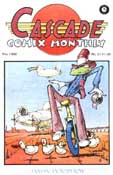 Cascade Comix Monthly

#21

May 1980

Contents
News
Jaxon Interview
In Praise of Barefootz
Underground Gas
Comix Showcase, Oisif Eguax
Jungle Funnies, Mama Dog
"Underground" Comics?
New Wave, small press
The Cube, Michael Roden
An Alien's Cell Growth
Artwork
Darrel Anderson (cover)
Jaxon
Howard Cruse
Larry Rippee
Marc Grabler
Justin Green
Phil Yeh
Jim Valentino
Guy Colwell
Oisif Eguax
Mary Wagner AKA Mama Dog
Al Sirois
Bill Sherman
J. Siergey
Michael Roden
Bill Griffith
Maravish Bindu
---
Cascade #22
September 1980
(name changed)
In the summer of 1980, I was losing interest in Cascade because of the grunt labor involved in publishing it. I pre-printed the covers for issues 22 and 23 with the dates September and November, 1980 on them. The issues were late, actually published in early 1981, and Bob Sidebottom, our distributor, made us black out the dates on the covers.
--Artie Romero

Contents
News
Ted White Interview
Flying Fungus Funnies
Underground Gas
Interview with R. Diggs
New Wave
Editorial
Anglo File
Geometric Porthole
Uncle Dan Gang
Artwork
John Peterson (cover)
Al Sirois
Jim Siergey
Tom Bergin
Gary Whitney
Vernon Grant
Phil Yeh
Larry Rippee
John Valandingham
Michael Roden
Dale Lee Coovert
Hunt Emerson
---
Cascade #23
November 1980
All comics issue
This was an amazing issue. It was sold out in advance of publication. We printed about 1650 copies, but we could have sold many more. It was a very fitting end to the (almost) 3-year run of Cascade. Material was collected for a 24th issue, including a great S. Clay Wilson cover, but it never saw print.
--Artie Romero
Bruce Simon (cover)
Denis Kitchen
Tom Bergin
Larry Rippee
S. Clay Wilson
Al Sirois
John Peterson
Spain Rodriguez
Robert Williams
Dan O'Neill
Jim Siergey
Jay Lynch
Gary Whitney
Cascade
|
Back Issues 1-4
|
5-8
|
9-14
|
15-18
| 19-23
Everyman
| Cascade Comix Monthly |
Mini-Comix
Underground Comix Art Exhibit
|
Comix links



Email us
ARG! Cartoon Animation LLC
(720) 989-1251


Copyright © 2020 Artie E. Romero. Updated 03/03/2020