Everyman Studios was founded in Colorado Springs, Colorado in January, 1973, as a small-press publisher of underground (alternative) comics and a journal, Cascade Comix Monthly. Starting in 1981, founding member Artie Romero transitioned it into a commercial, contract animation studio, and in 1994 he renamed it ARG! Cartoon Animation.
Everyman Studios
ARG! Cartoon Animation studio was founded by Artie Edward Romero. Starting in his high school days in the 1960s, he was a cartoonist, comic book artist and publisher. In the spring of 1968, seeing his covers and illustrations for Cranberry Oblivion hot off the press at a print shop, Artie became fascinated by printing and publishing. He studied fine art and illustration in college, and kept drawing and publishing, achieving minor fame as "Ed Romero" in comics fandom. In 1972 he edited and published the fifth issue of his comics and science fiction fanzine Realm with artwork by Frank Frazetta, Vaughn Bode, Michael Wm Kaluta, Barry Windsor-Smith, Carl Barks, Gil Kane and other titans of the Silver Age of comics.

In 1973 Artie was a founding member of the artist co-op Everyman Studios in Colorado Springs, along with Darrel Anderson, Rick Berry, Tom Haber and William Kirk Kennedy (1953-2010). Everyman published an underground/alternative newspaper The Everyman Flyer 1974-1975, including original comics.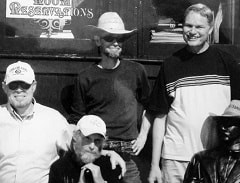 In 1975 Artie began to edit and publish alternative comic books, AKA underground comix, with the Everyman Comics imprint. He published dozens of minicomics, various large format underground comix including Animal Bite Comix and Realm, tabloids such as Everyman Comics, Scrabbits Reno Comics and Scrabbis Treno, and 23 issues of a popular alternative comics journal, Cascade Comix Monthly. At first the core artists of Everyman Studios, including those listed above plus John Peterson and Allan Greenier, drew most of the comics. After Cascade was launched, Artie was able to include work from a worldwide pool of talent, including Harvey Kurtzman, Art Spiegelman, Spain Rodriquez, S. Clay Wilson, Denis Kitchen, Skip Williamson, Jay Lynch, Trina Robbins, MK Brown, Dan O'Neill, Larry Rippee, Ted Richards and England's Hunt Emerson, among others.


Above: Artie Romero's tabletop offset press (1980)
Everyman was always a labor of love, successful only by the standards of the small press. Artie largely lost interest in printing and publishing in 1981, after he fell in love with the art of animation. In 1981 Everyman Studios became an animation studio, and it was renamed ARG! Cartoon Animation in 1994. For more details, check out Artie Romero's personal site.

New comix by Everyman Studios artists & friends
Realm #8: The best of Everyman Comics

Realm 8, the best of Everyman Comics was published on March 25, 2016. It's a standard size 7 x 10" B&W comic book, 36 pages on book paper with glossy covers in color (inside covers too). Artists and writers: Darrel Anderson, Rick Berry (covers), Bob Conway, Hunt Emerson (9 pages), George Erling, William Kirk Kennedy (1953-2010), John Peterson, Artie Romero, Al Sirois and more. This first edition is limited to just 1,000 books. It was edited by Bob Conway and published by Phantasy Press by special permission of Artie Romero, ARG! Cartoon Animation LLC and all the contributing artists. This could be the best issue of Realm ever, and this limited edition will sell out very soon, so order your copy today with FREE shipping (USA).
Only $5.00
U.S. shipping: FREE
---
Nutso Toons #2
The first issue of Nutso Toons was an 8 page minicomic published by Everyman Studios in 1979. In 2016, 37 years later, a second issue premiered to great acclaim at the Denver Independent Comics & Art Expo.

This large size, adults-only comix book features a wrap-around cover and 5-page previously unpublished story "Squork & Ortney" by Artie Romero, 10 pages by the late underground comix legend Skip Williamson (1944-2017), plus comics and art by tremendous talents such as Jay Lynch (1945-2017), Rick Berry (NEW full-color inside back cover painting), MK Brown, Spain Rodriguez (1940-2012), Dan O'Neill, Darrel Anderson, Bob Vojtko, Jim Siergey, William Kirk Kennedy (1953-2010) and more. 36 pages, oversize 8.5" x 11" with full-color front, back and inside covers, all on the best quality paper stock. This first edition is limited to 500 copies. This could be the LAST of the old school underground comix books, so order your copy today with FREE shipping (USA).
Only $3.99
U.S. shipping: FREE